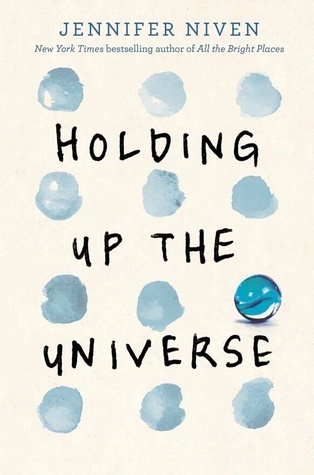 "Holding Up the Universe" does not stand out as a particularly good or bad novel. The two main characters grow and become more accepting of themselves by the end of the novel. However Jack's repeated use of "broken" to describe himself as someone affected by prosopagnosia is unnecessary and out of place. Although it's interesting and educational to understand challenges faced by prosopanosiacs and those deemed "fat", the characters often seem to be infatuated with and reduced to these issues. Niven intends to show that Libby isn't defined by her weight, yet Libby is defined by her weight in the book. She is bullied, thinks about it constantly, everyone else thinks about it constantly. Although it may be good to show weight-related bullying and make the audience empathetic, Niven talks about weight to an extent that it becomes Libby's defining feature.
There is very little other than these issues in this book, except from romance and family problems. Furthermore there is a vast, faceless cast of supporting characters- friends and foes- who lack proper characterisation and differentiation, other than "friendly", "bitchy" or "bully".
The book is not slow paced, but could have been shorter and at times, it is melodramatic. However, my main issue with the plot is that it seems incomplete. The ending was incomplete, somewhat anti-climatic (although there wasn't that much of a climax towards the ending) and utterly predictable.
Another problem: the first half of the book is almost wholly about weight-issues/prosopagnosia, but then the two main characters get into a car together- and BAM- they want to make out. I feel like the chemistry between the two main characters feels forced and sudden sometimes, but as the book progresses it does improve, although some of the romantic lines verge on the creepy or just weird (Niven has yet to master the prose of romance and the use of metaphors), however, at times the romance and friendship in the novel is sweet.
The book is also dotted with cliches from head to toe, although at times it does manage to cleverly incorporate cliches into its message. I also appreciated the diverse cast, especially in contrast to "All the Bright Things".
tl;dr: book mainly about the protagonists' defining issues (weight and prosopagnosia) with romance. This is not a terrible book, but there are better books out there.